I've been having a lot of fun with my new lighting gear. I thought I'd show a couple of examples of what I've been playing around with. In these two shots I was trying to create different moods by working with light placement, light shaping tools and color. Oh, you'll have to forgive the model. This was kinda last minute and he's all I could get. And he was cheap. ;)

In this first shot, I wanted a moody, kinda harsh light. I put the flash above my head and put a snoot on it. You all remember snoots right? This gave me a fairly narrow beam of light to rake across my face. I had to experiment quite a bit to get it in the right place. Consistency was slightly hampered by the fact that I had to start the timer on the camera and run to get into position every time. Hey, I suffer for my art. Or something. Anyway, after I got the light coming down the way I wanted, the left side of my face was too dark. I needed to fill that side with some light. I only have one flash, so I needed to use something to bounce some of the light from the flash back into the dark places. I placed a 2'x 4' piece of white foamcore that I got from a craft store about two feet from my face and angled up to bounce some light. I also set my white balance to Tungsten to give it a colder feel.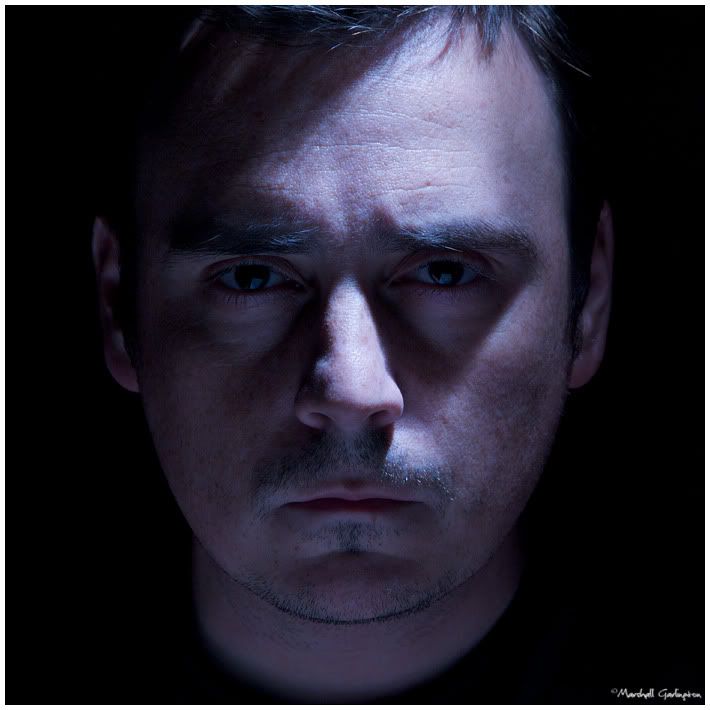 For the next image, I wanted a much warmer and more open look. I changed from the straight flash to a shoot through umbrella. I put the umbrella as close to my face as I could without being in the frame. One of the many things I've learned from reading Joe McNally's books about using flashes is, the closer and larger the light source, the softer the light will be. Using an umbrella in this close gives a very soft, wrap around kind of light. I again used the white foamcore to bounce a little light back onto the left side of my face. I used a Daylight white balance here for a warmer feel.
Sorry, no setup shots this time. I know, I know. It was late and I was being lazy. Oh, I almost forgot. I also taped up (love that painters tape) a black piece of foamcore on the wall behind me to make sure that it would be a solid color. Love to hear what you guys think.